Species Canna Glauca
Early canna Glauca is a species canna and is easily identified by its long slender leaves.
Glauca was one of the canna species that was used in the early hybridizing of cannas and it was responsible for some of the early Annei hybrids that are still found growing worldwide in our gardens.
The foliage on Glauca is very long with narrow leaves that reach over 21 inches in length without the leaf blade that attaches it to the stem.
I keep and grow my Glauca potted as its rhizomes are known to run and be a bit of a wanderer in the garden popping up here and there away from the original planted position in good growing conditions.
I plan on planting this out in an old bath tub in the future so it has a bit more room to run and grow to its full potential in height and leaf structure, but for now it will remain contained to the pot.
In potted conditions Glauca for me reaches 1.5 meters tall when in flower, this height is measured from the potting mix to the top of its flowers.
The flowers are a medium sized bloom colored a soft clear yellow and it also sets seed.

Glauca was a parent plant used in the aquatic breeding programe that produced the Longwood water cannas which also have the familiar traits of the blue green glaucous leaves.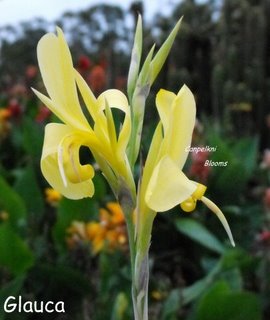 Size comparison picture of Glauca leaves on the cultivar Bengal Tiger to give you an idea of just how narrow the leaves can be.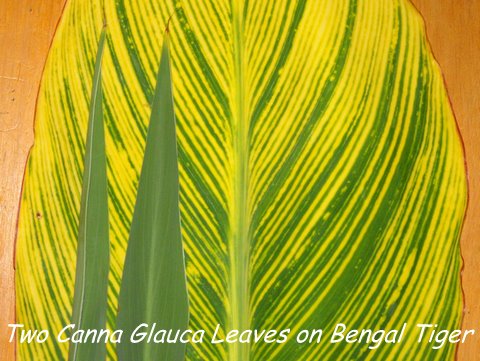 Here the leaves measure just on 2 inches wide across when they are pressed out flat.
Glauca loves to be grown in wet boggy places and it home land is in the wetland area's of America, Glauca is also often called and known by the name the Louisiana Canna.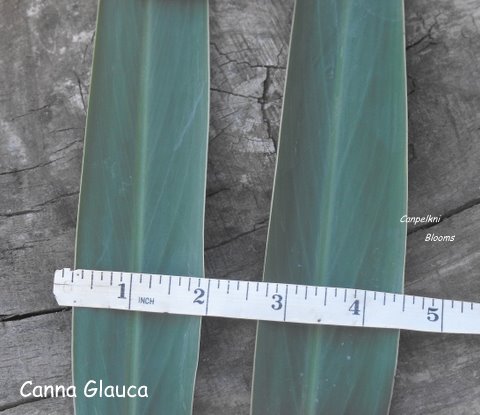 From Canna Glauca back to Varietys of Cannas

Back to Cannas Australia home page