Prints of Canna Flowers
Beautiful Prints of Canna Flowers for sale featuring heirloom cannas from around the world that have been enhanced and restored by me. I have sourced these over years of collecting original old vintage Seed and Garden catalogues and some individual pages from lithographs, chromos, and plate prints etc.

Photo print of Canna Monsieur Yidal.
---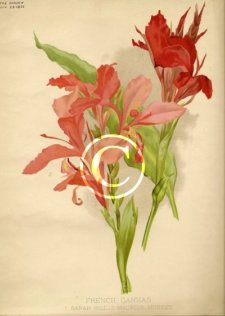 French Cannas from 1895 The Garden, featuring Sarah Hill and Maurice Mussey.
---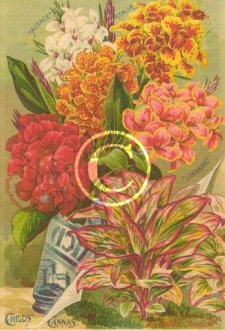 This is a beautiful early John Lewis Childs flower art litho featuring Grand Flowering Cannas with colorful pictures of Italia, Duke of Marlborough, Florence Vaughan, New Variegated Foliage Canna Rainbow, Lorraine and the white flowering Alsace.
---
This is a beautiful and rare image of species canna Liliiflora from a hand finished litho from the 1860s.

---
Delightful New French Cannas published for James Vick's Son's Seedsmen. Featured cannas are Gen Boulanger, Chevalier Besson and the very popular canna Star Of 1891.

---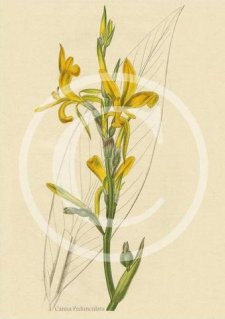 Species Canna Pedunculata also called Peduncled Canna.
---
From the 1890s Mixed Cannas, these plants have no name, but gee some of them look familiar to what is still available and grown in gardens today.
---
From a beautiful flower catalog litho is Childs Grand Flowering Cannas featuring Blushing Bride, Little Duke, Flame, Crozy Improved, Perfection and Improved Rainbow.

---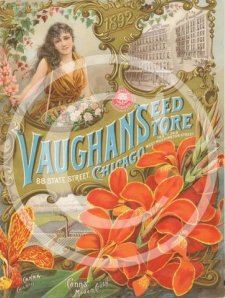 This is the first original Canna memorabilia I ever bought, It cost me just over $70, It is the one I admire the most for its magnificent and compelling blended colors and that old unique world charm that it shows, so glad to have it. From 1892 with Vaughan's Seed Store Chicago featuring the cannas Childsii and Madam Crozy, Greenhouses at Western Springs, Retail Store for Vaughan Seeds and Office & Warehouse.

---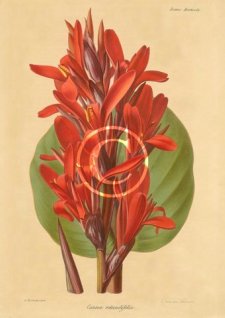 The chromolithograph illustration for Revue Horticole I have is dated 1869 on the back, it features Canna Rotundifolia.

---
Featuring Canna Mme Joanni Sallier a chromolith for Revue Horticole, my original is dated 1892 on the back.

---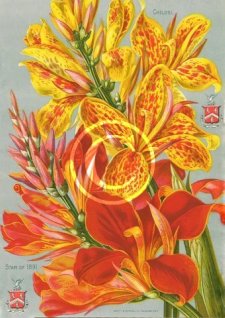 Featuring Star of 1891 (The Everblooming Canna) and Childsi (The Tiger Cannas.

---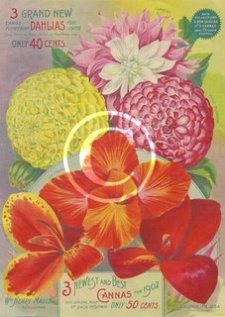 Nice print featuring Maules three newest and best cannas for 1902, American Banner, La France and Black Prince, one strong root of each for sale, postpaid at only 50 cents. Also features three new large flowering dahlias. My original on the back features an offer for the Superior 8 Champion Roses.

---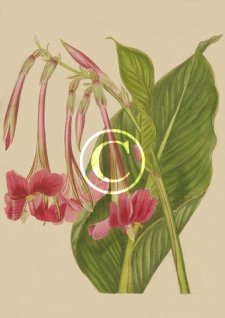 This plate illustration features the species Canna Iridiflora by S. Curtis for Curtis's Botanical Magazine published in the year 1818.

---
This is a chromo of Mme Crozy published by the French Revue Horticole 1889.

---