Canna Varieties, The Old Canpelkni Blooms Australia Canna Collection
The Canna Varieties I grow range from dwarf to giant canna plants in an array of tropical colors.
Some have insignificant flowers and are grown as foliage plants, some of the cannas are true aquatic water plants.
Often they are are incorrectly referred to as canna lilies.

You can visit each cultivator below for pictures and full descriptions about each plant.


Ace of Spades

African Scarlet Speckle, Aida, Airies,

Alex Cole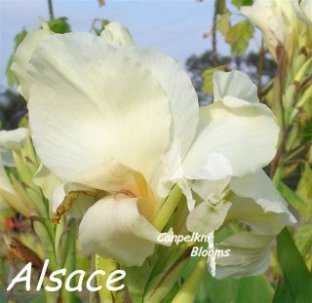 Alsace 1896 was first offered for sale as the white canna, full heads of blooms opening from pale yellow buds with some faint pink on upper labellum, flowers quickly progress through to a soft cream and finally through to a white, shows more centered pink in damp cool weather, needs warm sunny days to stay clear and white so she looks her best, canna Alsace grows up to 1.7 meters tall, seeds yes.
---
Alycia Fowler, Ambrosia, Annei,

Annjee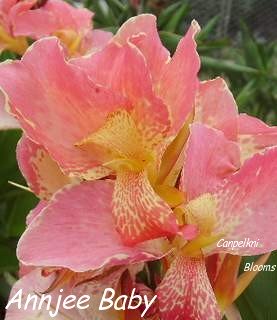 Annjee Baby with mid soft pink blooms bordered with cream, labellum is heavily splotched with a creamy yellow tone, raised in Australia 2006. Easily grows to one meter tall above green foliage and sets seed. Recent new release of this very rare Australian cultivar. Annjee Baby is a seedling from the beautiful but much darker pink canna Annjee.
Family of Pink Cannas Una, Annjee and Annjee Baby Story
---
Aquarius, Assaut, Austra,

Bambi, Beatrix

Beatrix

Bengal Tiger

Bethany,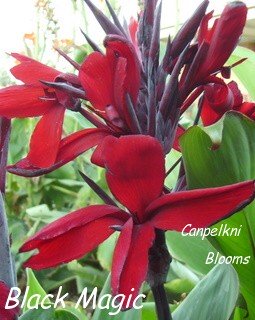 Canna Black Magic from black buds Black Magic shows its unusual velvety dark blood red and elongated flower held above green foliage, a medium growing canna reaching 1.2 meters tall.
---
Britannia, Burbank, Bushfire, Butterscotch,

Capers, Capri, Captain Cole,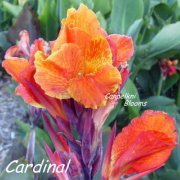 Cardinal up to 1.1 meter tall, raised by Bernard Yorke.

---
Centenaire de Rozain-Boucharlat, Cerise St Albans Park, Cheerfulness, Chelle, City of Portland, Colibri

Copicana

Copper Butterfly, Coventinarae, Crepe L` Orange,

Di Bartolo,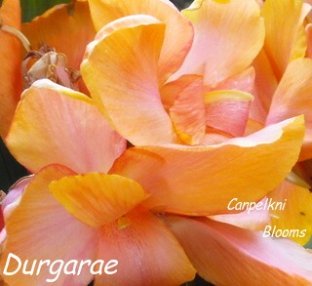 Durgarae from golden apricot blooms to soft apricot n pink with irregular placed pink bleeding that only seems to be consistent on and near the edges of the staminodes, labellum and stamen beautifully shaded too, dark bronzed over green foliage, 1.4 meters tall, raised 2007 by me, Raelene.
Limited number of Durgarae rhizome plants for sale at $45 each to Victorian and New South Wales Buyer only, enquires through the Contact Link for orders.- Sold Out

---
Effie Cole, Elizabeth Hoss, En Avant, Endeavour, Erebus, Erich, Eureka,
Fiery Sparkles was raised in Australia in 2006, is very heavily marked with elongated pink splotches over pale yellow through to cream blooms, green foliage, canna Fiery Sparkles can eventually grow up to 1 meter tall.
---
Flamingo

Florence Vaughan,

Frau Gartenburg

Frederick Benary,

Gem, Gem form #2, Giselle,

Glauca

Henri Cohn, Honey Mango, Horusrae,

Intrigue

Italia, Ivor Evans, Ivory Magic, Jarchewall,

J. D. Cabos

John Lochner

Kathys Star,

La France,

Lohengrin

Lillian Cole, Louis Cottin, Lucifer,

Madame Crozy

Marie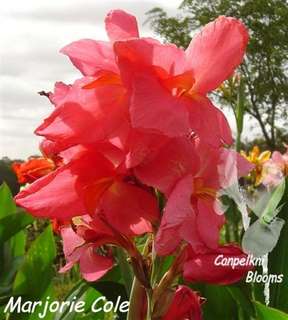 Marjorie Cole another of the Australian heritage canna varieties with pretty rose pink blooms with the slightest flush of salmon, her throat and stamen also show slight feathering of salmon over cream, flowers are fine with a distinctive crinkle in them, green foliage, canna Marjorie Cole is a dwarf small canna, the maximum height I've had her grow was 0.9 meters tall.
---
Merle Cole, Mattie Cole, Merinda, Merle Cole, M. Holtze, Moulin Aurora, Moulin Jaffa, Musafolia, Musafolia Hybrid

New Norma, Niagara,

Orange Crush

Oscar Dannecker,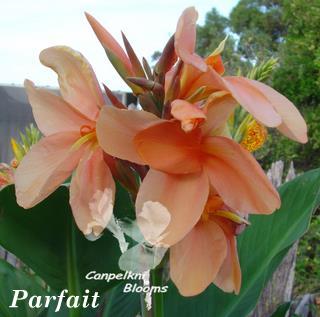 Parfait raised in Australia, unusual shade of soft to mid apricot blooms with green foliage, medium grower at 1.2 meters tall.
---
Pearly Shells, Phasion, Pink Perfection,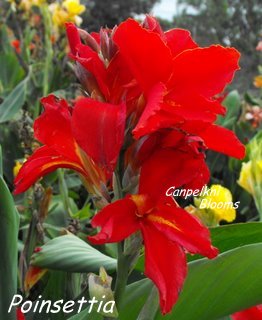 Poinsettia has clear bright red flowers that show a very fine golden yellow irregular trim and golden yellow feathering on labellum and stamen, canna Poinsettia is one of the growing short canna varieties reaching up to 80 centimeters tall with green foliage.


---
Port Denison

Princess Yorke
Professor Wendt has deep red blooms with magnificent dark purple toned foliage over green which is common in the dark leaf canna varieties, canna Professor Wendt grows upto 1.4 meters tall.
---
Ra, Renee, Richard Wallace #2,

Roma

Rosebud, Rosemund Coles, Ruffian,

Salmon Watsonia, Semaphore, Shanuni, Sherri, Simba,

Spotted Delight

Star of 1891

Star of India, Storm Boy, Strawberries & Cream,
Strawberry Candy, 1 meter tall, raised approx 2006 by Raimunda.
Short n Spotty, under 60cm, raised approx 2006 by Raimunda.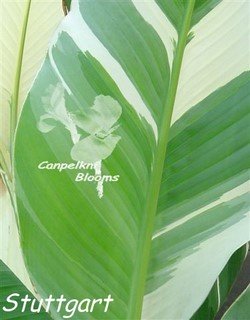 Stuttgart a spectacular foliage plant of large blue green leaves with irregular variegated foliage of silver, cream to white, at the end of the season as cooler weather starts foliage appears more of a yellow cream than white, pale apricot to pink flowers, up to 3.1 meters tall, discovered in Stuttgart Botanical Gardens Germany.
Limited number of Stuttgart rhizome plants for sale at $15 each to Victorian and New South Wales Buyer only, enquire's through the Contact Link for orders. -Sold Out.

---
Taney

Tango form #2, Tango Tango, Taurus, Tequila Sunrise, Tirol, Triomphe,

Tropical Cocktail a beautiful canna with soft apricot blooms irregularly overlaid with soft pink all held above bronze foliage over dark olive green, canna Tropical Cocktail raised in Australia grows in the garden up to 1.5 meters tall.
---
Tropical Rose, Tropical Salmon, Tropical Yellow,

Tropicanna Black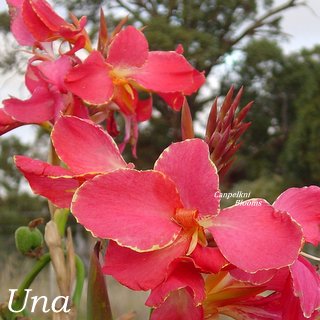 Canna Una has many rose pink blooms with an irregular golden yellow trim, flowering heads eventually cascade downwards from the weight of her many blooms, up to 1.7 meters tall, green foliage, she starts flowering early in the season and if it wasn't for Victoria's frosty winters she would keep going on and on, one of the best pinks.
---
Uturae,

Valentine

Vestarae

Warszewiczii, Wyoming,

Yellow King Humbert

Yellow King Humbert #2.