Canna Seeds
Growing your own canna seeds is rewarding and fun with often a few surprises found along the way, not to mention it is a and cheap inexpensive way to increase plants production into your garden.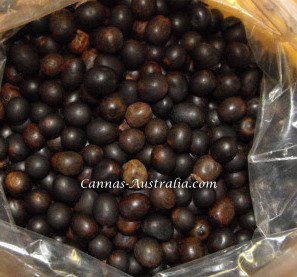 By growing cannas from your own seeds you may be lucky enough to produce some different new cannas that are very distinct in the flower so much that there is no other canna that even closely resembles it, but unfortunately chances are a lot of seed will closely resemble that of the parent that it was collected from.

If you're not interested in creating new and distinct canna varieties' then growing them by seeds is a perfect way to add some bulk color to you garden. I hand pollinate and collect the seeds from a few selected plants as well as occasionally collecting seeds and sowing them from a mixed open pollinated selection, sometimes I get lucky and raise a distinctly different flowers to what I already have but along the way there has been a lot of common looking flowers produced that I've trashed or off loaded to neighbors and friends.
From pollination the seeds grow and develop on the parent plant, they are ready to be collected when they are hard and coloured a black or a blackish brown.
When choosing which seeds to sow its best to check the seeds for good viability before they are sown to ensure the highest seed germination success rate. The most common reason seeds fail to grow is because they are missing their embryos.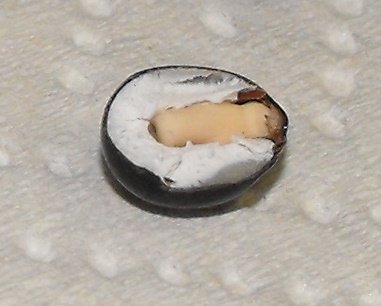 Seeds will grow readily if they are prepared first as they have a hard black coating on them that is impermeable to water, to ensure results especially in cooler climates they need to be scarified first before sowing.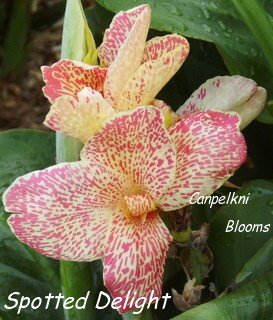 It must be remembered that when seedlings produce flowers that if it appear and look the same as the same as the parent plant that they are not the same and therefore they should not be called by its parents name as it won't carry the identical strains, characteristics, vigor etc.

How Seeds Grow and Develop

How to Check Seeds

Pictures of Fertile Seeds

From Canna Seeds back to Cannas Australia Home Page