CANNA 'SALMON WATSONIA' .. AFTER THE HAIL STORMS
by Dianne Larsen
(Tenterfield NSW Australia)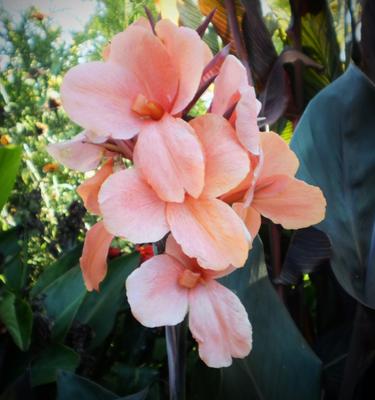 A photo taken today, 20th Feb. 2013
2013 didn't start very well for many people in Australia .. fires, flooding & massive storms .. and some areas are still experiencing terrible fires.


The 2nd week of this year, saw massive storms & hail in the area in which I live, in Nth NSW. Even though we suffered significant storm & hail damage here, it wasn't long after that the Cannas were amongst the first plants to brighten up the garden, amongst the shredded gardens & smashed hothouses.
One of my 'recent faves' .. they are all 'faves', who couldn't love 'em all?! .. is this bright n perky pink/salmon lady C. 'Salmon Watsonia', with her deep green & burgundy shaded foliage.
Her blooms remind me somewhat of Frangipani flowers in shape .. pity she doesn't have a scent like them .. and grows as a 'tall' canna height, holding her blooms amongst & above her leaves.
The clumps are 'loose', rather than tight together, with rhizome growth fairly long & tending to spread which makes them great for screening or using along fences or 'lost' corners in yards where you don't know what else to plant!
The dramatic new foliage & bright contrasting flowers certainly pick up my spirits while I'm still waiting for the bulk of the storm damage to be attended to by Insurance Contractors! *pics taken today & previous blooms.