WHO IS THIS SHORT LADY?
by Dianne Larsen
(Tenterfield NSW Australia)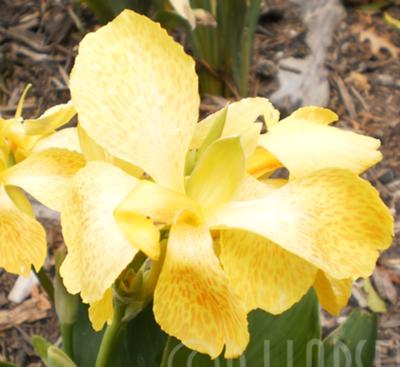 Unknown Yellow Spotted Very Short Canna
Originally, I didn't like yellow cannas .. guess because it has never been my favourite colour & quite often 'over done' as a colour in gardens to the point of looking 'cheap'.


THEN I started being given different yellow cannas by friends & before I knew it, I was buying yellows with variegated blooms .. or is that variegated flowers with yellow? Anyway, I have quite a few different varieties now & look forward to the time each season that they are flowering at their best, so I may photograph them.
Amongst the cannas I have purchased, one is a mystery! She WAS supposed to be a 'white' & had been marketed as 'Tropical Moonlight' by a 'mail order' retailer.
Last year, it had one flower stem of a light yellow bloom (fades to almost white, from the centre outwards, as it ages) with pale red spots/streaks (that remain fairly pale red, but not pink, asit ages) but not good enough to photograph.
Now I have a better photo, could anybody tell me what it is? It has not grown any taller in 18mths than 43cm high from the ground to the tops of the flowers & no new shoots have gone any higher. The leaves are deep green, not overly bright but have obvious ribbing, short of course & quite straight. I know it is NOT 'Vandershoot' or 'En Evant'(La Garope)or a spotted version of 'Cleopatra' as I have them & it's nothing alike.
I hope someone can ID her for me, as I like my cannas to have correct names. She is 'cutey' & I will divide this one next year & add it to my garden borders .. guess I don't dislike yellow anymore!
Cheers, Dianne. :)