Canna Ace of Spades
Canna Ace of Spades is one of the darkest of the red cannas that I grow.
When the dark blackish red flowers appear they are quite a sight to behold, they open from dark blackish colored buds also.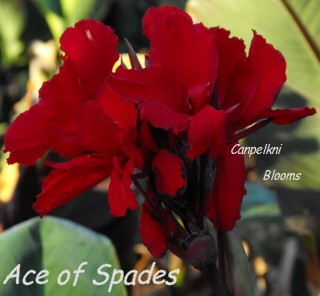 This is a short to medium growing canna reaching up to 1.2 meters tall when in flower.
The foliage on these canna plants is green with a dark burgundy colored margin.
This burgundy coloring also carries back onto the leaf over lapping the margin, and the stems on this cultivar are colored a dark burgundy also.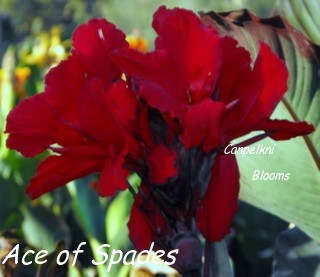 Because it's one of the shorter growing plants canna Ace of Spades is perfect for the front of a Perennial border or as a potted plant on your balcony or patio.
Where ever this is grown the unusual colored flowers are sure to catch the eye
From Canna Ace of Spades back to Canna Varieties
Return to the home of Cannas Australia