Medium Growing Canna Marie
Tropical canna Marie has soft shaded apricot flowers that progress through to a pink tone.
Her canna flowers are of a medium size and they show quite a bit of yellow coloring in the centre of the flowers and on the throat on the labellum.

The stamen is yellow and heavily covered with darker apricot markings. As the blooms age the yellow tones progress through to cream. Each flowers petal (which are actually modified staminodes) also shows a very fine trim of yellow from the throat that progresses toward the top of each staminode.


The yellow trim thins out so much that it often never makes it all the way around the staminode.
Marie's changing pastel colors look refreshing amongst the other bright and bold tropical plants.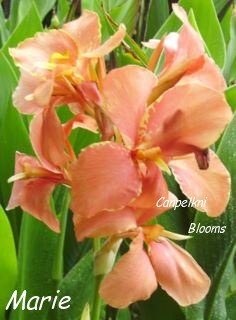 Her beautiful garden flowers are held above fresh green tropical foliage that shows a clear margin.

A medium growing plant reaching up to 1.3 meters tall that also sets seed.
This height is measured from the ground up to the top of the flowers and canna Marie was raised in Australia by Bernard Yorke.
From Canna Marie back to Canna Varieties
Back to the home of Cannas Australia