Garden Flowers of Canna Vestarae
Canna Vestarae starts with beautiful soft pastel garden flowers that change as the blooms progresses.
Vestaraes blooms eventually progress through to white flowers that are heavily flushed with pink.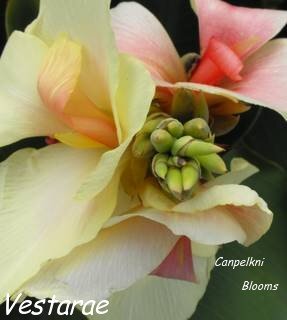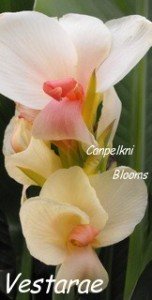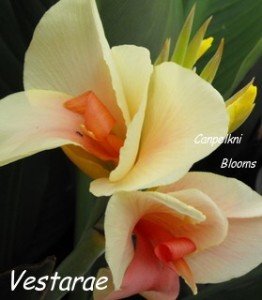 Once the buds open the still wrapped staminodes appear
See how yellow they are just before they open.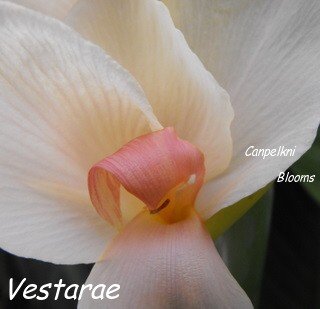 New flowers that have just opened.
They show pale creamy blooms that are flushed with a soft apricot and salmon flushed stamen and lightly brushed pale pink labellum.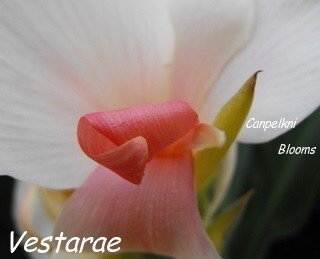 The stamen and labellum develop and change to a beautiful darker pink tone.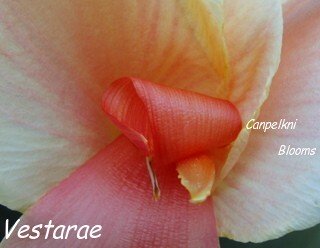 An older flower that has aged showing lots of pink.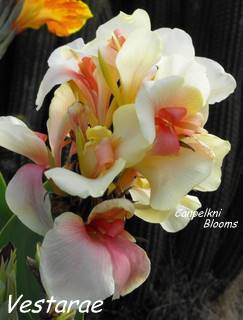 With medium to large sized garden flowers she is easily seen amongst other summer flowering plants.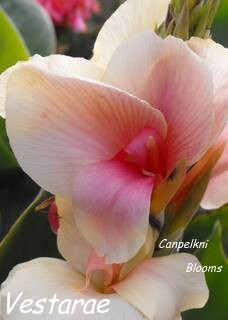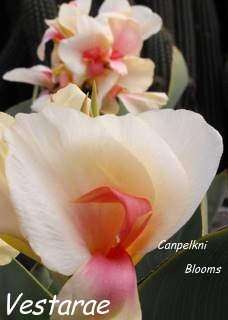 As I type this it's the 9th of May 2010 with about three weeks to go until winter starts here in Victoria, Australia and she is still flowering in the garden very nicely, mind you she started flowering in late October 2009.

This is a fairly new canna and was raised by me in 2007, it was a chance seedling by open pollination from canna Alsace, the choice to keep this new plant was easily made as the characteristics are all so good as the quality and size of the bloom were good as well as the fact that it drops the old flowers and that she is easy to grow and resettle and not shy to flower.


With beautiful summer flowers held above fresh green foliage with a clear colored margin on its leaves.
Vestarae also sets a good amount of seed.
From Canna Vestarae Back to Canna Varieties
Back to Cannas Australia home